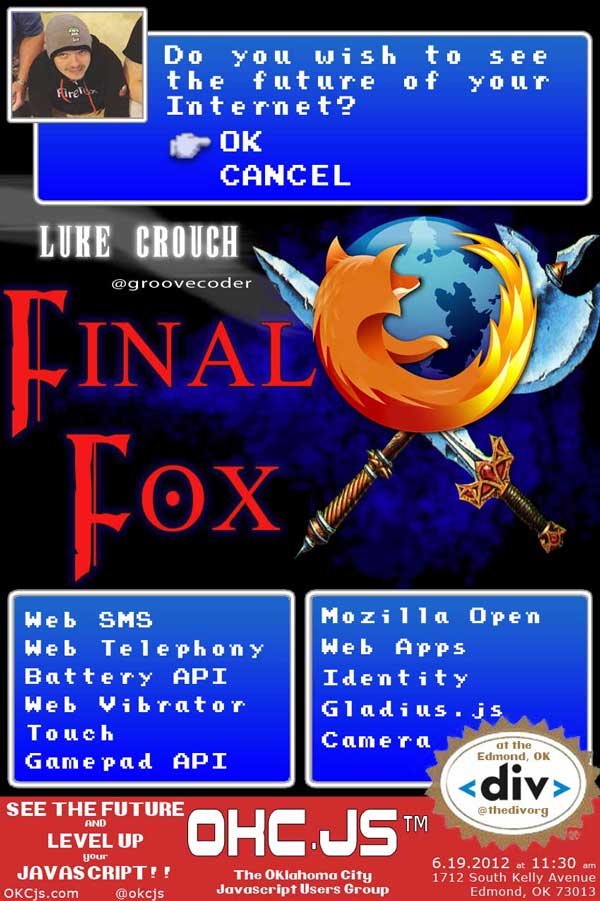 This Month
Meeting June 19, 2012 from 11:30am - 12:30pm at the <div> in Edmond, OK. Lunch will be provided!
Final Fox: The Future of the Web
Its time to enter a whole new realm of Internet challenge and adventure.
It is no secret that Mozilla has been pushing the boundaries of what the internet is capable of, and has been a fundamental force in evolving the web. This month will be a whirlwind tour of a host of exciting topics that encompass the vast and magical things that Mozilla has in store for everone.
Luke is going to cover a variety of things; Web SMS, Web Telephony, Battery API, Web Vibrator, Touch, Camera, The future of gaming, Mouse Lock, Gamepad API, Gladius.js, Mozilla Open Web apps and Identity/Browser Id. Afterwards there will be a Q & A session, led by Luke covering these topics
Gather your gear; internet adventurers, and level up your interwebs.