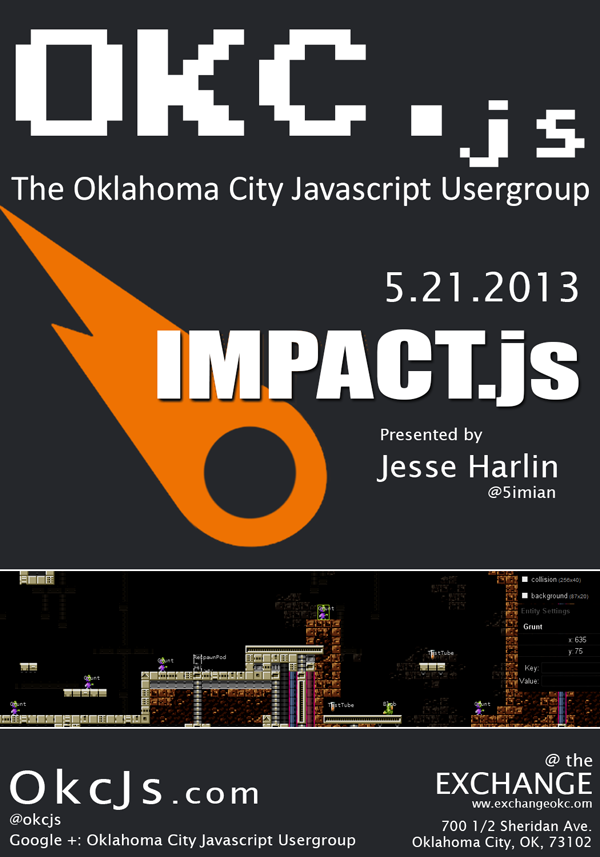 This Month
Tuesday: April 16, 2013
11:30 am
@The Exchange
700 1/2 W. Sheridan Ave.,
Oklahoma City, Oklahoma
73102
##"About "IMPACTjs"
###They're cropping up everywhere - Javascript frameworks for game creation.
You've probably played with some by now, and if not, you should take a gander at some of the more interesting ones. Javascript is a surprisingly robust and fun environment to for making games that can run in your browser.
Of the many game engines, a few will stick out. Impact.js is one of the ones worth your attention.
Why Impact? I'll show you. Bring your laptop to the next meeting - you're going to use it. We're going to assemble a simple game together in no time with Impact.js, and you can see why it is an effective and expressive system for creating content. We'll examine Impact's built in AMD, clear design patterns, animation system, awesome level master and useful debugging tools. We'll also look at how the system is extensible, and can even host external tools within.
Don't miss this meeting, you're in for a javascript treat! Dominique, the developer of Impact has been so kind to give us a usergroup licence for noncommertial use of Impact. If you've been curious about Impact.js but haven't had a chance to see what the fuss is about, now you can know!
About our Speakers
Jesse Harlin
I'm Jesse. I love making music and software. I think Javascript is really neat and I hope you do too.
Our Sponsors
Tasty lunch will be served thanks to Robert Half Technologies. These awesome folks are passionate about serving the Oklahoma City technology community and we thank them for their generous support. They've made it clear they want to see our usergroup succeed, which is an epic win for everyone!
usergroup.location = The Exchange;
The Exchange is located on the second floor of the historic Film Exchange building in downtown Oklahoma City. This unique loft space is a breath of fresh air for those wanting to step away from traditional event locals and reception areas while still remaining close to all the action of the city.
The Exchange
700 1/2 West Sheridan Avenue
Oklahoma City, OK 73102
(405) 601-9200