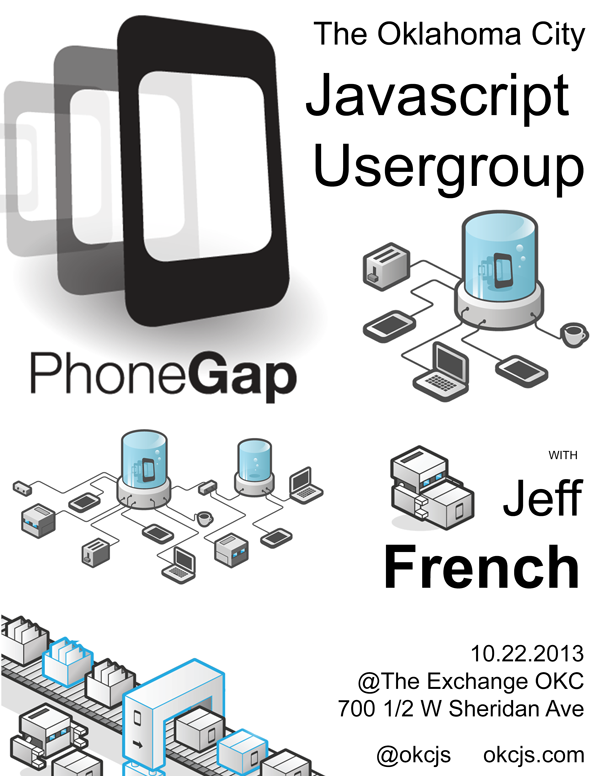 ##This Month
Tuesday: Sept 17, 2013
11:30 am
@The Exchange
700 1/2 W. Sheridan Ave.,
Oklahoma City, Oklahoma
73102
##"About "Phonegap"
Are you excited about all the mobile technologies available today but you can't decide which language to learn? Is your company planning to build a mobile app but you can't decide which platform to invest in first? The answer is simple: don't choose! In this session I will show you how you can use the PhoneGap framework to build an app using just HTML, Javascript and CSS that will compile to a native app. Along the way, I'll point out various performance tips, helper libraries and design patters to make your app experience awesome on all devices. Your app will be ready for submission to each platform's app store and will install and run natively all from a single code base!
About our Speakers
Jeff French
Jeff French is an experienced developer with a passion for automation, software craftsmanship and good craft beer. A mild mannered developer by day and a hopeless technology junky by night. He has extensive experience in web and mobile application development, deployment automation, and continuous delivery. He constantly strives to learn how new technologies can help solve real world problems. He has been a contributor to such open source projects as MVC Turbine, Shoelace-MVC and Octopus Deploy's OctoPack. Jeff is an international speaker at technology conferences giving talks on DevOps, Continuous Delivery, Mobile and Web Development, Javascript frameworks and whatever else strikes his interest.
Our Sponsors
Tasty lunch will be served thanks to Robert Half Technologies. These awesome folks are passionate about serving the Oklahoma City technology community and we thank them for their generous support. They've made it clear they want to see our usergroup succeed, which is an epic win for everyone!
usergroup.location = The Exchange;
The Exchange is located on the second floor of the historic Film Exchange building in downtown Oklahoma City. This unique loft space is a breath of fresh air for those wanting to step away from traditional event locals and reception areas while still remaining close to all the action of the city.
The Exchange
700 1/2 West Sheridan Avenue
Oklahoma City, OK 73102
(405) 601-9200