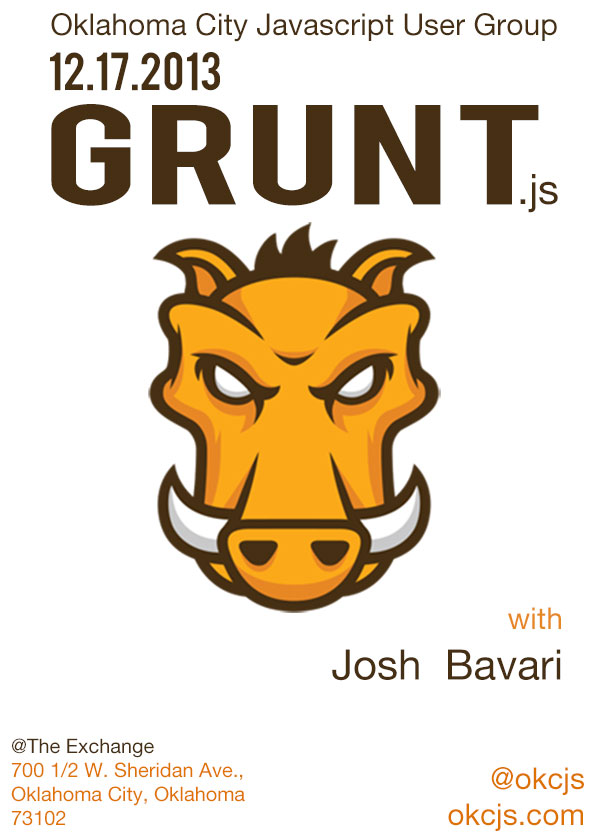 ##This Month
Tuesday: Dec 17, 2013
11:30 am
@The Exchange
700 1/2 W. Sheridan Ave.,
Oklahoma City, Oklahoma
73102
##About "Grunt.js"
Had a chance to check out Grunt.js yet?
It is awesome!
Its a well supported, and effective task runner in the js ecosystem. Its huge and its growing every day. There are already hundreds of plugins to pick from. You can automate anything, with little effort.
Automation is amazing.The less work you have to do when performing repetitive tasks like minification, compilation, unit testing, linting, etc, the easier your job becomes. Next Tuesday, Josh is going to show you how to achieve your goals quickly with Grunt.

About our Speakers
Josh Bavari
Ever since plugging in to a computer at a young age, Josh has been passionate about learning technology and helping others learn. Since 2006, Josh has worked in a variety of business settings ranging from start ups, medium size businesses, and on to the enterprise level. Currently Josh works for a local start up, RaiseMore, where he is focused on building a platform using technologies such as Ruby, Rails, Javascript, HTML5, and PhoneGap.
Our Sponsors
Tasty lunch will be served thanks to Robert Half Technologies. These awesome folks are passionate about serving the Oklahoma City technology community and we thank them for their generous support. They've made it clear they want to see our usergroup succeed, which is an epic win for everyone!
usergroup.location = The Exchange;
The Exchange is located on the second floor of the historic Film Exchange building in downtown Oklahoma City. This unique loft space is a breath of fresh air for those wanting to step away from traditional event locals and reception areas while still remaining close to all the action of the city.
The Exchange
700 1/2 West Sheridan Avenue
Oklahoma City, OK 73102
(405) 601-9200