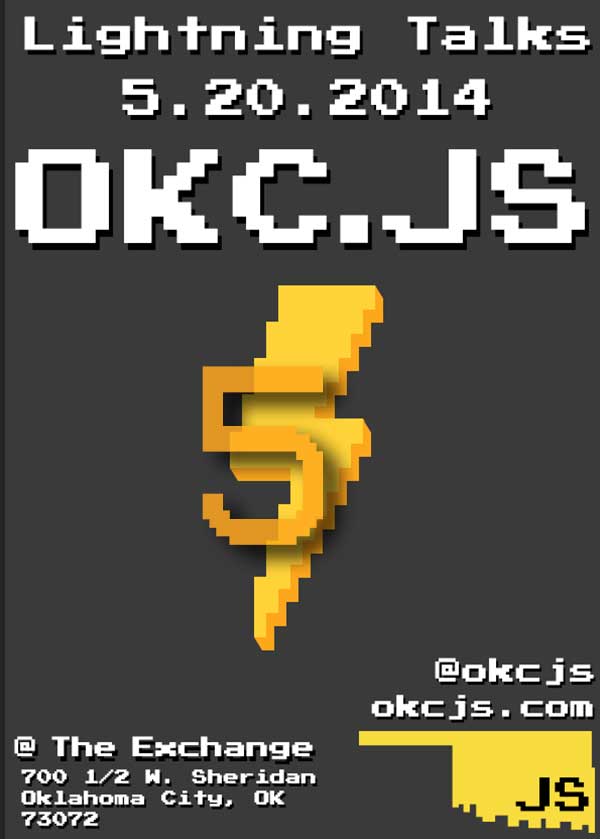 ##This Month
Tuesday: May 20, 2013
11:30 am
@The Exchange
700 1/2 W. Sheridan Ave.,
Oklahoma City, Oklahoma
73101
##About "Lightning Talks V"
Lightning Talks are super ultimate to the extreme. Its an open forum where our members can get up and talk about what they want. The talks need to be short - generally 5-10 minutes. You can cover anything that is javascript, or related to javascript. You can talk about a problem you've solved, a plugin you like, a cool blog post you read, something you're working on now, or pretty much any other way you're using javascript to achieve your goals.
This month, we have a lineup of awesome folks ready to share the knowldge of the ancients.
"Node Deployment with PM2" by Karl Kirch

"Hubot Plugins" by Rick Yoesting

"Kracken JS" by Shane King

"Thoughtfully Establishing Postgres as the Best Data Store for Your JavaScript Application" by Rob Sullivan
About our Speakers
Thats You!
This month it is all about you, our Okcjs Members. This meeting will be entirely user driven. Have you been working on something cool you want to share? Have you come across a useful plugin lately? Have you recently solved a hard problem with javascript or related technologies? Now is your chance to present it!
This is pretty informal. If you don't sign up, you can still talk if there's time, and if you do sign up you can change your mind. Ithe signup is just so if anyone really wants to talk they can be guaranteed a spot, is all.
Our Sponsors
Tasty lunch will be served thanks to Robert Half Technologies. These awesome folks are passionate about serving the Oklahoma City technology community and we thank them for their generous support. They've made it clear they want to see our usergroup succeed, which is an epic win for everyone!
usergroup.location = The Exchange;
The Exchange is located on the second floor of the historic Film Exchange building in downtown Oklahoma City. This unique loft space is a breath of fresh air for those wanting to step away from traditional event locals and reception areas while still remaining close to all the action of the city.
The Exchange
700 1/2 West Sheridan Avenue
Oklahoma City, OK 73102
(405) 601-9200