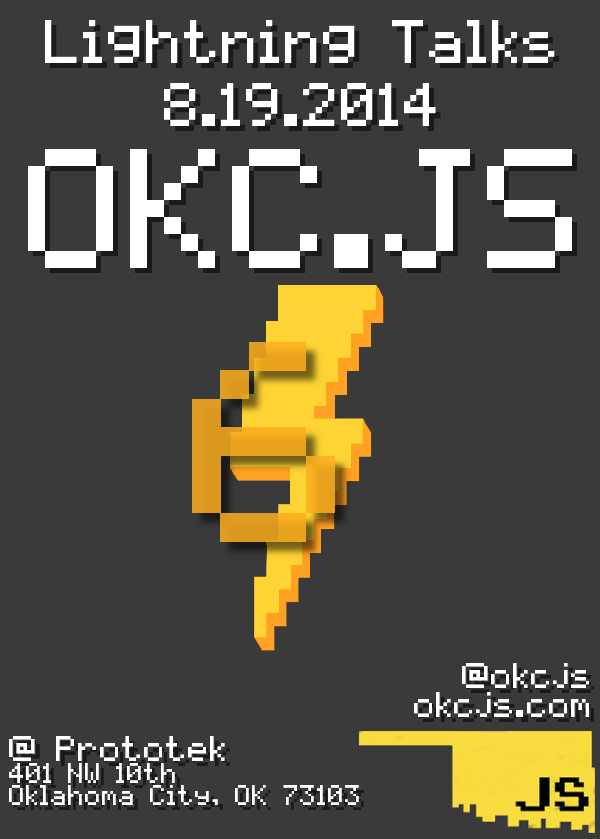 ##This Month
Tuesday: August 19, 2014
11:30 am
@Prototek
401 NW 10th,
Oklahoma City, Oklahoma
73101
##About "Lightning Talks: 6"
This is our 6th Installment of Community Lightning Talks. Never heard of a lightning talk? Here is what's up:
Lightning Talks are really fun. They an open forum where our members can get up and talk about what they want. The talks need to be short - generally 5-10 minutes. You can cover anything that is javascript, or related to javascript. You can talk about a problem you've solved, a plugin you like, a cool blog post you read, something you're working on now, or pretty much any other way you're using JavaScript to achieve your goals.
We run a signup on the Google G+ community for OKC.js. Generally? Be sure and sign up early; they fill up quickly
About our Speakers
####Here is this month's lineup!
######Hapi.js [Devin Clark]

######Hubot Scripts [Rick Yoesting]

######Mental Health in Tech [Caleb Creed]

######PDFs in JS [Phillip Sipe]

######Making lots of HTTP requests with Node [Karl Kirch]
Our Sponsors
Meeting space is provided thanks to Prototek. These awesome folks are passionate about creating a vibrant maker space in Oklahoma City. We thank them for providing meeting space for user groups and events. Prototek is collaborating with Techlahoma to create a positive impact on our tech community, which is an epic win for everyone!
These awesome folks serve the Oklahoma City tech job market and we thank them for their support since 2012!
usergroup.location = Prototek;
Prototek Prototek is a maker, fabrication, civic hacker and creator space located in Mid-Town Oklahoma City.

401 NW 10th St, Oklahoma City, Oklahoma 73103
Get directions via Google maps.