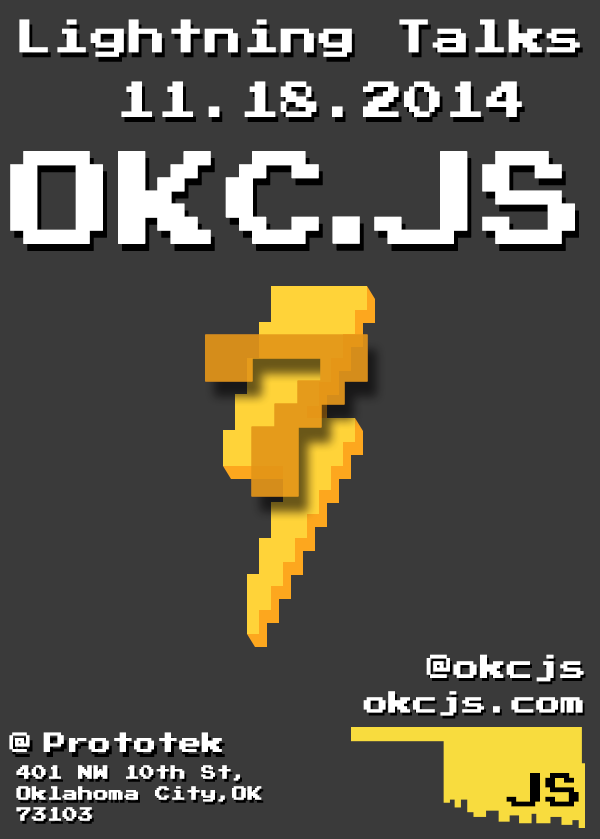 ##This Month
Tuesday: Nov 18, 2014
11:30 am
@Prototek
401 NW 10th,
Oklahoma City, Oklahoma
73101
##About "Lightning Talks: 7"
This is our 7th Installment of Community Lightning Talks. Never heard of a lightning talk? Here is what's up:
Lightning Talks are really fun. They are an open forum where our members can get up and talk about what they want. The talks need to be short - generally 5-10 minutes. You can cover anything that is javascript, or related to javascript. You can talk about a problem you've solved, a plugin you like, a cool blog post you read, something you're working on now, or pretty much any other way you're using JavaScript to achieve your goals.
We run a signup on the Google G+ community for OKC.js. Generally? Be sure and sign up early; they fill up quickly.
About our Speakers
####Here is this month's lineup!
Our Sponsors
Meeting space is provided thanks to Prototek. These awesome folks are passionate about creating a vibrant maker space in Oklahoma City. We thank them for providing meeting space for user groups and events. Prototek is collaborating with Techlahoma to create a positive impact on our tech community, which is an epic win for everyone!
Tasty lunch will be served thanks to Techlahoma.
usergroup.location = Prototek;
Prototek Prototek is a maker, fabrication, civic hacker and creator space located in Mid-Town Oklahoma City.

401 NW 10th St, Oklahoma City, Oklahoma 73103